A $50 billion gold-industry deals spree is extending into its third year, even as a surging bullion price makes sealing transactions and valuing mines more difficult.
Gold has regained its luster as investors seek havens from volatile markets and weak interest rates. While the metal is up about a quarter this year, the value of mergers and acquisitions has soared. The average paid in 133 transactions in the three months to June was $64 an ounce of gold equivalent in the ground, up from $36 in the first quarter of 2016, as buyers factor in better long-term price expectations, according to Bloomberg Intelligence.
"Companies are receptive to doing deals and there are sellers there, and naturally they are trying to get the prices up," according to Liam Twigger, managing director of industry adviser PCF Capital Group Pty, which has acted in about 80 transactions over the past seven years and advised clients including Barrick Gold Corp. "There's enough value in companies' share prices, and enough capital's been raised, to enable these deals to be done."
Right Price
Barrick, the biggest producer, last week announced plans to sell its 50 percent share in Australia's largest open-pit gold mine and joint owner Newmont Mining Corp. has signaled it would be willing to buy the stake at the right price. The stake may fetch as much as $1 billion, according to people familiar with the matter, while analyst valuations range from $400 million to about $1.5 billion.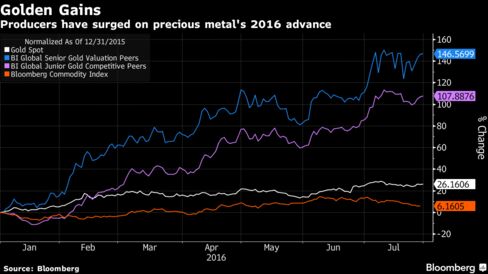 Mergers and acquisitions and the metal's surge this year after three straight annual declines will be major topics discussed by about 1,800 delegates, including executives from Newmont and AngloGold Ashanti Ltd., at the annual three-day Diggers and Dealers mining sector forum in the Western Australian town of Kalgoorlie.
Completed and pending gold sector deals totaled almost $9 billion in the first half, including Newmont's $1.3 billion sale of Indonesian copper and gold assets to a local consortium and Centerra Gold Inc.'s $1.1 billion purchase of Thompson Creek Metals Co. Volumes rose in 2015 to $21 billion, the highest annual total since 2011.
Bullion's Gains
Bullion for immediate delivery was little changed at $1,350.63 an ounce at 2:08 p.m. in Sydney, according to Bloomberg generic pricing. It's rallied 27 percent this year, rising 2.2 percent in July after back-to-back quarterly gains.
Gold Road Resources Ltd. is in talks with four parties over the potential sale of a stake in its Gruyere development project in Western Australia and will demand any deal reflects the higher bullion price, according to Chief Executive Officer Ian Murray.
"The cycle has turned," Murray said in an interview in Kalgoorlie on Sunday. The Gruyere site is "a world-class deposit by any definition and if we get a transaction, it would command a premium price."
Perth-based Doray Minerals Ltd. is hunting globally for potential deals to add more production, Managing Director Allan Kelly told reporters in Kalgoorlie. "It's tough to find good value in the market at the moment," Kelly said."Things are either very well priced, or the projects are very old and tired."
Valuations vary on Barrick and Newmont's Super Pit in Kalgoorlie — a giant 3.5-kilometer (2 mile) long operation at a site where metal has been produced continuously since a late 19th century gold rush — not only because of price assumptions but also on views that exploration could extend the mine's life beyond a slated close of 2030.
Barrick President Kelvin Dushnisky said the company would sell assets including the Super Pit — if it got a fair price, according to an interview last month. Likewise, Newmont's Gary Goldberg said in July that it would like to acquire Barrick's stake, if they could come to an agreement.
After mid-sized producers, including Northern Star Resources Ltd., completed a raft of mine acquisitions from larger rivals, activity is now likely to accelerate in company takeovers and asset deals among smaller companies, according to PCF Capital's Twigger.
"That's greased the wheels, and I'm confident that once we get through the Diggers and Dealers conference, we may well see a bunch of deals," he said. "It's like a mountain of champagne glasses, you pour champagne in the top row — and they are the producers — and it cascades over into the developers. The interest is going to be very strong going forward."
Perth-based Northern Star said Monday it had agreed to sell its Plutonic asset in Australia to Billabong Gold Pty, to focus on its assets at Jundee, Paulsens and in Kalgoorlie.
Full Article: Gold's $50 Billion M&A Spree Builds as Rally Boosts Values
Disclaimer© 2010 Junior Gold ReportJunior Gold Report' Newsletter: Junior Gold Report's Newsletter is published as a copyright publication of Junior Gold Report (JGR). No Guarantee as to Content: Although JGR attempts to research thoroughly and present information based on sources we believe to be reliable, there are no guarantees as to the accuracy or completeness of the information contained herein. Any statements expressed are subject to change without notice. JGR, its associates, authors, and affiliates are not responsible for errors or omissions. Consideration for Services: JGR, it's editor, affiliates, associates, partners, family members, or contractors may have an interest or position in featured, written-up companies, as well as sponsored companies which compensate JGR. JGR has been paid by the company written up. Thus, multiple conflicts of interests exist. Therefore, information provided herewithin should not be construed as a financial analysis but rather as an advertisement. The author's views and opinions regarding the companies featured in reports are his own views and are based on information that he has researched independently and has received, which the author assumes to be reliable. No Offer to Sell Securities: JGR is not a registered investment advisor. JGR is intended for informational, educational and research purposes only. It is not to be considered as investment advice. Subscribers are encouraged to conduct their own research and due diligence, and consult with their own independent financial and tax advisors with respect to any investment opportunity. No statement or expression of any opinions contained in this report constitutes an offer to buy or sell the shares of the companies mentioned herein. Links: JGR may contain links to related websites for stock quotes, charts, etc. JGR is not responsible for the content of or the privacy practices of these sites. Release of Liability: By reading JGR, you agree to hold Junior Gold Report its associates, sponsors, affiliates, and partners harmless and to completely release them from any and all liabilities due to any and all losses, damages, or injuries (financial or otherwise) that may be incurred.
Forward Looking Statements
Except for statements of historical fact, certain information contained herein constitutes forward-looking statements. Forward looking statements are usually identified by our use of certain terminology, including "will", "believes", "may", "expects", "should", "seeks", "anticipates", "has potential to", or "intends' or by discussions of strategy, forward looking numbers or intentions. Such forward-looking statements involve known and unknown risks, uncertainties and other factors which may cause our actual results or achievements to be materially different from any future results or achievements expressed or implied by such forward-looking statements. Forward-looking statements are statements that are not historical facts, and include but are not limited to, estimates and their underlying assumptions; statements regarding plans, objectives and expectations with respect to the effectiveness of the Company's business model; future operations, products and services; the impact of regulatory initiatives on the Company's operations; the size of and opportunities related to the market for the Company's products; general industry and macroeconomic growth rates; expectations related to possible joint and/or strategic ventures and statements regarding future performance. Junior Gold Report does not take responsibility for accuracy of forward looking statements and advises the reader to perform own due diligence on forward looking numbers or statements.