Gold's 2016 bull run has finally become the consensus call for analysts, pundits and forecasters…
'BLACK SWAN' has become a very over-used phrase, even amid 2016's relentless shocks and surprises, writes Adrian Ash at BullionVault in this note first sent to Weekly Update readers last Monday.
Maybe 'grey goose' would be better. Or simply Daffy Duck…just to describe this year's manic intensity.
Either way, 2016 has brought a slew of events few people imagined, and fewer still thought possible…let alone likely…and certainly not all at once.
As one wag says, if you have a friend now waking up after a year in a coma, start with Leicester winning the English football Premier League atodds of 5000-to-1, and work up slowly from there.
Then ready yourself for more low-chance yet inevitable shocks ahead.
An ancient, male chauvinist joke meaning something so rare, it is in fact impossible (everyone in Europe knew swans only came in white), the Black Swan became a popular pub name in England in the 15th to early 17th centuries.
Marketing hype is nothing new, in other words. But a live black swan became a very real novelty in 1697, when Dutch explorers found a river full of the birds as they navigated into Australia.
Things you can barely imagine, in short, do happen. The issue to deal with is how the shock will affect you.
Amid all the politics, slaughter, upsets and rage in 2016, perhaps the least shocking black swan for investors so far has been the turnaround in gold and silver prices.
But spurred by the US Federal Reserve's apparently stunning failure to raise interest rates from the 0.50% it finally reached last December however, this sudden bull market in precious metals certainly caught the entire finance industry off guard, including most specialist bullion analysts.
Gold would fall below $1000 by March, said last year's best forecaster, Bernand Dahdah at French bank Natixis as the New Year began.
Instead, he now says it could reach a high of $1750 per ounce sometime next year.
Gold would end 2016 at $900 reckoned Dutch bank ABN Amro in January.
Now it's raised its gold forecast yet again, targeting $1350 for December…with a rise to $1450 next year.
US bank Citigroup's chief economist Willem Buiter famously called gold nothing but a "6,000-year old bubble". But now he thinks gold "looks pretty good"…
…because we now live "in times of uncertainty and especially in days of uncertainty laced with negative [interest] rates."
And as for money managers and hedge funds…they were betting against gold prices rising as 2016 began.
Last week, they trimmed their bullishness to what had been a second new all-time record high in a row when they first got there at the end of June.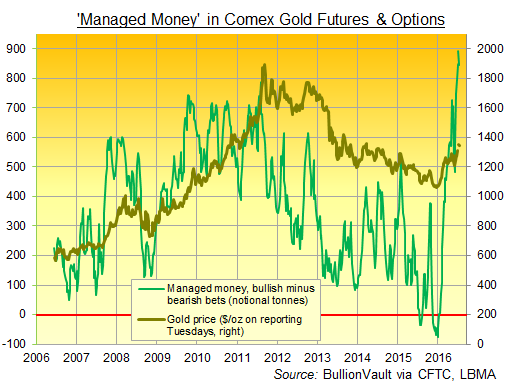 Such bullishness should make existing owners a bit nervous, as long-term gold and silver investors won't need reminding.
Gold peaked on the morning of 6 July…losing 3.5% for US and Euro investors since then, and dumping almost 7% for UK investors…just as everyone agreed that this bull market is so rock-solid, it cannot be "jinxed".
But the back-half of 2016 sees gold and silver starting from a very different place from New Year. Panics and surprises like Turkey's attempted coup will now be expected to send gold prices soaring…causing lots of hmm'ing and haw'ing if they don't.
Disappointment is highly likely for precious metals' newly bullish bears. That should give longer-term investors running their own money…and managing their own risk…a chance to build their holdings as the backlash begins amongst disappointed headline writers and embarrassed analysts.
Inflation, meantime, remains a fantastical beast which central banks, money managers, governments and the vast majority of savers just cannot imagine.
If this year's black swans are to turn truly financial, watch the sky for a fast-rising cost of living.
Adrian Ash runs the research desk at BullionVault, the physical gold and silver market for private investors online. Formerly head of editorial at London's top publisher of private-investment advice, he was City correspondent for The Daily Reckoning from 2003 to 2008, and is now a regular contributor to many leading analysis sites including Forbes and a regular guest on BBC national and international radio and television news. Adrian's views on the gold markethave been sought by the Financial Times and Economist magazine in London; CNBC, Bloomberg and TheStreet.com in New York; Germany's Der Stern and FT Deutschland; Italy's Il Sole 24 Ore, and many other respected finance publications.
See the full archive of Adrian Ash articles on GoldNews, or get more from Adrian Ash on Google+
Please Note: All articles published here are to inform your thinking, not lead it. Only you can decide the best place for your money, and any decision you make will put your money at risk. Information or data included here may have already been overtaken by events – and must be verified elsewhere – should you choose to act on it. Please review our Terms & Conditions for accessing Gold News, RSS links are shown there.
Full article : Gold Bull Meets Black Swans Meet Daffy Duck
Disclaimer© 2010 Junior Gold Report
Junior Gold Report' Newsletter: Junior Gold Report's Newsletter is published as a copyright publication of Junior Gold Report (JGR).  No Guarantee as to Content:  Although JGR attempts to research thoroughly and present information based on sources we believe to be reliable, there are no guarantees as to the accuracy or completeness of the information contained herein. Any statements expressed are subject to change without notice. JGR, its associates, authors, and affiliates are not responsible for errors or omissions. Consideration for Services: JGR, it's editor, affiliates, associates, partners, family members, or contractors may have an interest or position in featured, written-up companies, as well as sponsored companies which compensate JGR. JGR has been paid by the company written up. Thus, multiple conflicts of interests exist. Therefore, information provided herewithin should not be construed as a financial analysis but rather as an advertisement. The author's views and opinions regarding the companies featured in reports are his own views and are based on information that he has researched independently and has received, which the author assumes to be reliable. No Offer to Sell Securities: JGR is not a registered investment advisor. JGR is intended for informational, educational and research purposes only. It is not to be considered as investment advice. Subscribers are encouraged to conduct their own research and due diligence, and consult with their own independent financial and tax advisors with respect to any investment opportunity. No statement or expression of any opinions contained in this report constitutes an offer to buy or sell the shares of the companies mentioned herein. Links: JGR may contain links to related websites for stock quotes, charts, etc. JGR is not responsible for the content of or the privacy practices of these sites. Release of Liability: By reading JGR, you agree to hold Junior Gold Report its associates, sponsors, affiliates, and partners harmless and to completely release them from any and all liabilities due to any and all losses, damages, or injuries (financial or otherwise) that may be incurred.
Forward Looking Statements
Except for statements of historical fact, certain information contained herein constitutes forward-looking statements. Forward looking statements are usually identified by our use of certain terminology, including "will", "believes", "may", "expects", "should", "seeks", "anticipates", "has potential to", or "intends' or by discussions of strategy, forward looking numbers or intentions. Such forward-looking statements involve known and unknown risks, uncertainties and other factors which may cause our actual results or achievements to be materially different from any future results or achievements expressed or implied by such forward-looking statements. Forward-looking statements are statements that are not historical facts, and include but are not limited to, estimates and their underlying assumptions; statements regarding plans, objectives and expectations with respect to the effectiveness of the Company's business model; future operations, products and services; the impact of regulatory initiatives on the Company's operations; the size of and opportunities related to the market for the Company's products; general industry and macroeconomic growth rates; expectations related to possible joint and/or strategic ventures and statements regarding future performance. Junior Gold Report does not take responsibility for accuracy of forward looking statements and advises the reader to perform own due diligence on forward looking numbers or statements.