By Chris Vermeulen
STOCKS WILL HAVE A 'WATERFALL DECLINE' AND SILVER WILL 'SKYROCKET'
In their latest announcement, the FED attempted to prop up the stock market. They attempted to sound hawkish, however, the market paid not any heed to it.  The FED annulment was reflected in a manner that lead the way to the dollar tanking and precious metals rising. Silver has industrial uses as well as monetary ones, which will come to the forefront as the gold bull market progresses.
"The Fed has had numerous opportunities to normalize rates over the past two years and have squandered them all," said Peter Hug, global trading director at Kitco Metals Inc. in an emailed note after the FED statement, reports Market Watch.
Although a few analysts believe that the FED has kept hopes alive for a September 2016 rate hike, the market does NOT believe so. The FED funds futures points to a status quota the next meeting, as a majority (88%) of traders believe that the FED will NOT move in the next meeting of September 2016.
In my opinion, the judgment of FED members notwithstanding, what choice do they have but to leave the possibility of a rate hike on the table?  They would look like total buffoons, if they reversed course now. This sudden spike in the price of silver has definitely caught a lot of analysts off guard.  I am suggesting that the fact that the FED is now less likely to raise rates after the Brexit and the fact that the dollar has been slipping a bit lately are the primary reasons for silver's rise…
The dollar bulls, who were optimistic on the FED had pushed prices above the 97 levels, however, after the FED's decision, prices tanked and rightly so.
Another reason for an increase in silver prices is the surge in demand due its "industrial" application. "Silver has (more room to run) because silver is increasingly used in solar panels now. Something like 10 percent of demand comes from solar panels. Solar panels are a growing source of demand for silver, so you have got an additional attraction for silver as well, as a commodity investment and also industrial usage," Jeremy Wrathall, mining team leader at Investec, told  CNBC on Monday, July 4th.,2016
The chart of the dollar index shows that for more than a month, it has remained in an uptrending channel. However, recently the dollar broke down the channel, signifying that the traders do not buy the hawkish derrick.
The break of the channel has a target of close to 95.2, which also coincides with the 50% retracement of the total rise from the lows of 93. However, if the dollar continues to tumble, it has a small support at 94.7 levels, post which, it will retrace the complete move.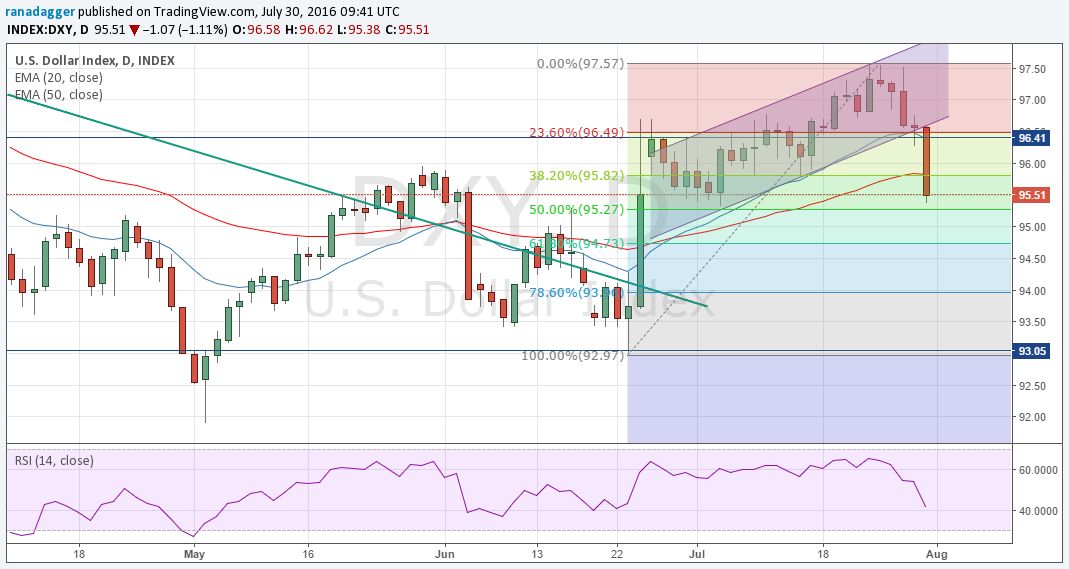 The fall in the dollar will reflect in the rise of silver. I believe that silver is on the cusp of a rally and hence, we shall concentrate on the silver charts.
The silver bulls have seen a stupendous run from the lows of around $13.73 during the start of the year to the highs of $21.2 in early July 2016. However, I believe that the bull run in silver will continue after a small consolidation.
The chart of silver shows that it is consolidating in a range of 19.3 on the lower side and 21.2 on the higher side. If silver manages to break above the range, its pattern target is 23. However, I believe that silver will scale the level of 23 and thereafter, reach the levels of 26 by the end of this year.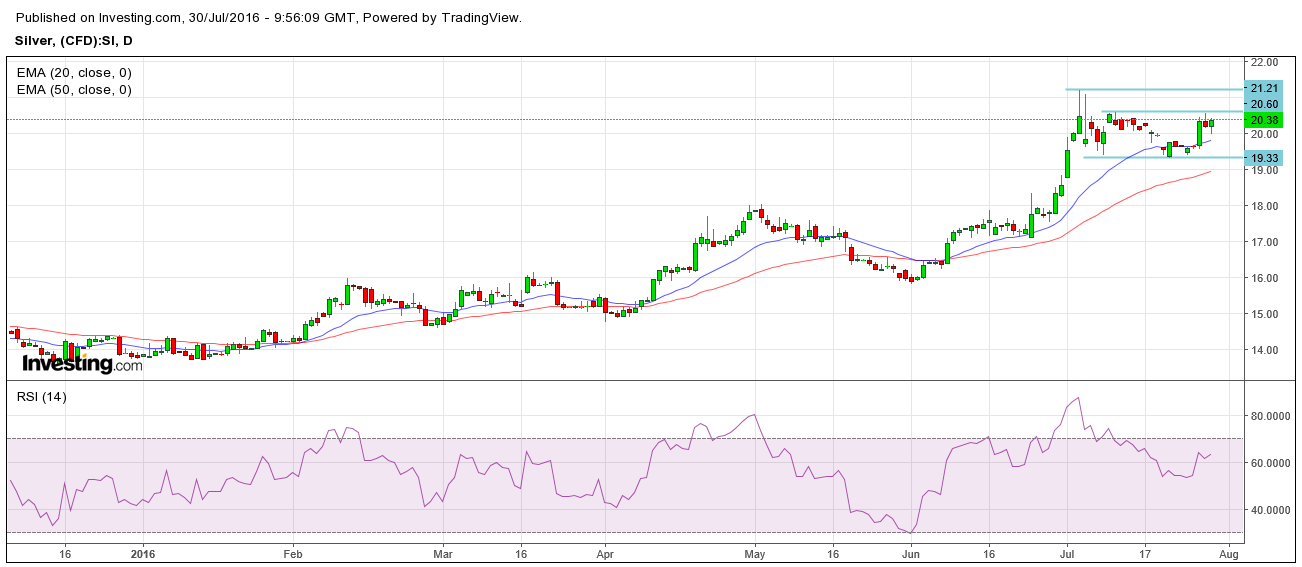 Historically, August has been a rough month for stock investors. In the last 20 years, the stock market's performance has been down -1.3% in August, according too Bespoke.
"I would expect August to be mediocre or weak," said Don Townswick, director of equities at Conning.
Similarly, David Kostin, Chief equity strategist at Goldman Sachs is bearish on the markets. The current price-to-earnings (P/E) ratio expansion cycle has reached the third largest, ever, in history.
Consider that the current rise in stocks has come on the back of poor earnings, dismal growth and huge financial risks on the horizon. The crash is imminent, and I believe that the fall this August 2016 and September 2016 will sow the seeds for the larger decline, that I have been talking about.
I expect the equity markets to follow their negative record of August and September and I believe that the decline, which will be moderate in the beginning will end with a sharp slide.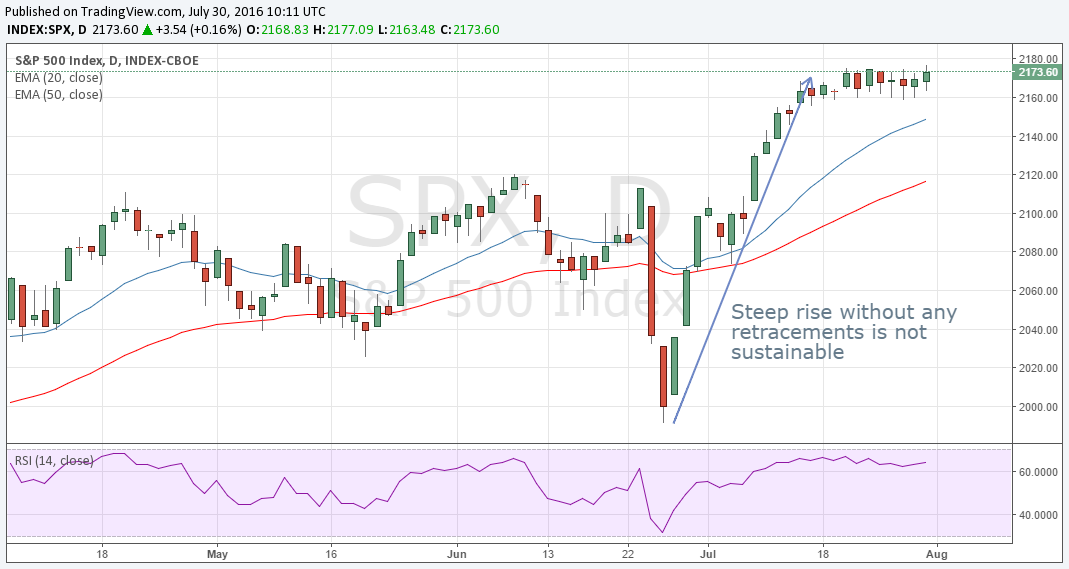 Conclusion
I believe that as "The Global Financial Reset" of the 'monetary system' begins, there will be an increase in the demand for silver relative to the increase in the demand for gold. Gold is an 'Establishment' metal relative to silver. There are no Central Bank that are 'hoarders' of silver, anywhere or anymore. There is no one in the 'Establishment' who considers silver, as money, as of yet!
History is going to repeat itself in August and we will see a sharp fall in the months of August 2016 and September 2016. The traders are accepting that the FED will not raise rates anymore this year and they are placing their bets accordingly.
Our short call on the dollar was timed to perfection, and I believe that the short call we give on the stock market will also produce similar results. Get ready for more such profitable trades in the following months.
Full article: STOCKS WILL HAVE A 'WATERFALL DECLINE' AND SILVER WILL 'SKYROCKET' IN AUGUST!
Disclaimer© 2010 Junior Gold ReportJunior Gold Report' Newsletter: Junior Gold Report's Newsletter is published as a copyright publication of Junior Gold Report (JGR). No Guarantee as to Content: Although JGR attempts to research thoroughly and present information based on sources we believe to be reliable, there are no guarantees as to the accuracy or completeness of the information contained herein. Any statements expressed are subject to change without notice. JGR, its associates, authors, and affiliates are not responsible for errors or omissions. Consideration for Services: JGR, it's editor, affiliates, associates, partners, family members, or contractors may have an interest or position in featured, written-up companies, as well as sponsored companies which compensate JGR. JGR has been paid by the company written up. Thus, multiple conflicts of interests exist. Therefore, information provided herewithin should not be construed as a financial analysis but rather as an advertisement. The author's views and opinions regarding the companies featured in reports are his own views and are based on information that he has researched independently and has received, which the author assumes to be reliable. No Offer to Sell Securities: JGR is not a registered investment advisor. JGR is intended for informational, educational and research purposes only. It is not to be considered as investment advice. Subscribers are encouraged to conduct their own research and due diligence, and consult with their own independent financial and tax advisors with respect to any investment opportunity. No statement or expression of any opinions contained in this report constitutes an offer to buy or sell the shares of the companies mentioned herein. Links: JGR may contain links to related websites for stock quotes, charts, etc. JGR is not responsible for the content of or the privacy practices of these sites. Release of Liability: By reading JGR, you agree to hold Junior Gold Report its associates, sponsors, affiliates, and partners harmless and to completely release them from any and all liabilities due to any and all losses, damages, or injuries (financial or otherwise) that may be incurred.
Forward Looking Statements
Except for statements of historical fact, certain information contained herein constitutes forward-looking statements. Forward looking statements are usually identified by our use of certain terminology, including "will", "believes", "may", "expects", "should", "seeks", "anticipates", "has potential to", or "intends' or by discussions of strategy, forward looking numbers or intentions. Such forward-looking statements involve known and unknown risks, uncertainties and other factors which may cause our actual results or achievements to be materially different from any future results or achievements expressed or implied by such forward-looking statements. Forward-looking statements are statements that are not historical facts, and include but are not limited to, estimates and their underlying assumptions; statements regarding plans, objectives and expectations with respect to the effectiveness of the Company's business model; future operations, products and services; the impact of regulatory initiatives on the Company's operations; the size of and opportunities related to the market for the Company's products; general industry and macroeconomic growth rates; expectations related to possible joint and/or strategic ventures and statements regarding future performance. Junior Gold Report does not take responsibility for accuracy of forward looking statements and advises the reader to perform own due diligence on forward looking numbers or statements.