Gold is in a major bull market and may surge to more than $1,500 an ounce as low interest rates buoy demand and the U.S. presidential election looms, according to DBS Group Holdings Ltd., which foresaw this year's rally and is now advising investors to buy any declines.
"Gold has seen four major bull markets since 1970: this is another one," Benjamin Wong, foreign exchange strategist at the Singapore-based bank's Chief Investment Office, said in an e-mail. "The market has yet to deal with the political uncertainty going into the Nov. 8 presidential election."
Bullion rallied to the highest since March 2014 this month, topping $1,375, as volatility in global equities, the spread of negative interest rates, and the turmoil surrounding Britain's vote to leave the E.U. fanned demand. As the timeline draws closer for Americans to choose a new leader, the Federal Reserve may hold off from raising borrowing costs in September or November, potentially benefiting gold. Last week, Bank of America Merrill Lynch also listed the U.S. vote among factors that may lift bullion to $1,500 over 12 months.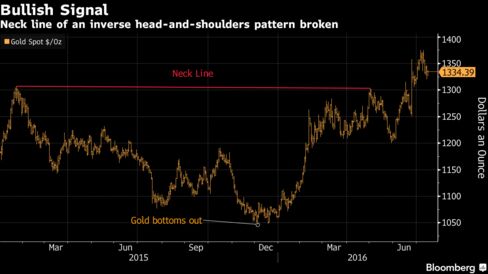 "We remain bullish and gold carries an overweight rating," said Wong, who also cited technical charts supporting the stance, including a so-called inverse head-and-shoulders pattern. Last October, DBS flagged the potential for gold to gain this year, saying then the Fed would raise rates only gradually. It followed that in February with another positive outlook on bullion.
Brexit Vote
Bullion for immediate delivery, which traded at $1,326 an ounce on Monday, was last above $1,500 in April 2013, according to Bloomberg generic pricing. After dropping for three years, it's 25 percent higher so far in 2016 as investors boosted holdings in exchange-traded funds.
In the U.S. contest, presumptive Republican nominee Donald Trump will up go against Democrat Hillary Clinton. While polls show the former secretary of state holding a slim advantage over Trump, both candidates are saddled with high unfavorability ratings. The Republican convention opens on Monday.
"The next few weeks, as the political debate heats up in the U.S., the support for gold is going to increase," Francisco Blanch, head of commodities research at Bank of America Merrill Lynch, said in an interview with Bloomberg Television Canada. Long-term interest rates are pretty anchored, and will probably end up moving lower over time, he said.
While the U.S. central bank raised borrowing costs in December for the first time in almost a decade, bullion advanced this year as investors scaled back bets on follow-through increases. Investors see only an 8 percent probability of a rise in July, while the odds of a move by December are at 44 percent, according to pricing in federal funds futures contracts.
Any dips to $1,296 to $1,300 would be opportunities to accumulate, said Wong. The next rebound may top resistance at about $1,380 and move prices toward $1,437 to $1,455, he added. "Longer term, if the full force of the inverse head-and-shoulders pattern is applied, there remains scope for $1,525."
Full Article: Gold, Trump and Rates: Bank That Foresaw Rally Flags $1,500
Disclaimer © 2010 Junior Gold Report
Junior Gold Report' Newsletter: Junior Gold Report's Newsletter is published as a copyright publication of Junior Gold Report (JGR). No Guarantee as to Content: Although JGR attempts to research thoroughly and present information based on sources we believe to be reliable, there are no guarantees as to the accuracy or completeness of the information contained herein. Any statements expressed are subject to change without notice. JGR, its associates, authors, and affiliates are not responsible for errors or omissions.
Forward Looking Statements
Except for statements of historical fact, certain information contained herein constitutes forward-looking statements. Forward looking statements are usually identified by our use of certain terminology, including "will", "believes", "may", "expects", "should", "seeks", "anticipates", "has potential to", or "intends' or by discussions of strategy, forward looking numbers or intentions. Such forward-looking statements involve known and unknown risks, uncertainties and other factors which may cause our actual results or achievements to be materially different from any future results or achievements expressed or implied by such forward-looking statements. Forward-looking statements are statements that are not historical facts, and include but are not limited to, estimates and their underlying assumptions; statements regarding plans, objectives and expectations with respect to the effectiveness of the Company's business model; future operations, products and services; the impact of regulatory initiatives on the Company's operations; the size of and opportunities related to the market for the Company's products; general industry and macroeconomic growth rates; expectations related to possible joint and/or strategic ventures and statements regarding future performance. Junior Gold Report does not take responsibility for accuracy of forward looking statements and advises the reader to perform own due diligence on forward looking numbers or statements.